This is an archived article and the information in the article may be outdated. Please look at the time stamp on the story to see when it was last updated.
BOULEVARD, Calif. — The mother of a missing teen who is the subject of a four-state Amber Alert died of blunt force trauma and may have been killed with a crowbar, a source close to the investigation told the Los Angeles Times.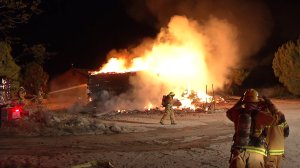 The body of Christina Anderson, 44, was found Sunday night in the garage of a burning home belonging to James Lee DiMaggio. Investigators believe DiMaggio killed Anderson and her 8-year-old son, Ethan, then kidnapped 16-year-old Hanna Anderson.
A badly burned child's body was found in the rubble of the burned house, but it has not been positively identified yet.
The FBI was helping the San Diego County Sheriff's Department and other police agencies in California, Nevada, Oregon and Washington search for DiMaggio and the girl.
Authorities say DiMaggio may be driving his blue 2013 Nissan Versa sedan, California license 6WCU986. DiMaggio is about 5 feet 9 inches and 150 pounds, with brown hair and brown eyes.
Law enforcement officers asked the public to be on the lookout for DiMaggio, who was described as a well-traveled outdoorsman.
"As we've said all along — he could be in Mexico, he could be in Canada, or he could be a mile away (from where he lived)," Caldwell said.
Authorities have received numerous tips about possible sightings of the suspect's car over the last several days, though none has proved conclusive, sheriff's homicide Lt. Glenn Giannantonio said.
Amber alerts have been issued in the case in Oregon, Nevada and Washington, according to the National Center for Missing & Exploited Children.
Thursday morning, the father of the missing children told 10News he was at a loss to explain how his longtime friend could have committed the terrible crimes attributed to him.
"I have been through every scenario in my brain," Brett Anderson told television station. "There was nothing ever to show any indication of this. Everybody you could … talk to loved (DiMaggio)."
The suspect's sister told the station her brother was a man of exemplary character, saying someone else must have committed the crimes and abducted or killed him in the process.
"He helped everyone that he knew in every way that he could, and he was a kind, kind, giving, loving person," Lora DiMaggio said in a halting voice. "He's done so much for so many people, and I just want to come home."
Giannantonio conceded that DiMaggio's alleged crimes seemed out of character.
"However, we have a vast amount of evidence to show that he is responsible for these crimes," the lieutenant said.
Authorities have declined to disclose what led them to conclude that DiMaggio was responsible.
In addition to having been friends to Brett and Christina Anderson for years, the suspect was close to their children for their entire lives.
"From what I've heard, (Ethan and Hannah) considered him an uncle," Giannantonio told reporters.
Hannah is about 5-foot-7 and 115 pounds, with blond hair, blue eyes, a navel ring, a nose stud and pierced ears. Ethan was described as about 4 feet 11 inches and 65 pounds, with sandy blond hair.
Anyone with information on the possible whereabouts of the suspect or the missing children was asked to immediately call the San Diego County Sheriff's Department at 858-565-5200.