This is an archived article and the information in the article may be outdated. Please look at the time stamp on the story to see when it was last updated.
SAN DIEGO -- Missing 12-year-old Nelly Espinoza was found in Tijuana Friday following an international search for her when she went missing after her friend Anna Hernandez was found dead behind a Grant Hill apartment.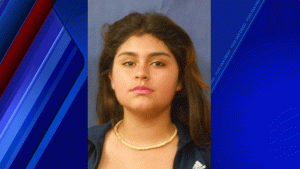 Espinoza's grandfather found her in Tijuana and brought her to the San Ysidro port-of-entry, where she was turned over to U.S. Customs officers and San Diego Police Department Investigators.
She was not the victim of any crime and was not injured in any way, according to police. She will reunite with and be cared for by her mother.
Hernandez, 14, was found dead shortly before 5:30 p.m. Nov. 18 in an open area off the 2900 block of Market Street, according to the SDPD.
The cause of death was not immediately apparent, but an autopsy determined that she died from at least one gunshot wound to her upper body, Lt. Mike Hastings said.
Authorities have not announced any arrests in the case or released suspect information.
Hernandez went missing five days before her body was found. Espinoza ran away the same day, and Hastings said investigators were working to determine if there was correlation between the two. It was unclear if the two left their respective homes together.
Espinoza called members of her family earlier this week and said she was staying with another relative in Northern Mexico and would flee again if anyone looked for her, according to Hastings.
The whereabouts of 16-year-old Janeth Mendoza, another companion who investigators say also fled to Mexico, are not yet known. She has been reported missing since Oct. 28.  She was last seen near the 3000 block of Webster Street.
Mendoza is 5-feet, 5-inches tall, 160 pounds, has black hair and brown eyes. Police said she has a Charger bolt tattoo on her neck and "Bella" on her right forearm and "Perla" on her left. Police asked anyone with information on her whereabouts to call Officer Jose Mendoza at 619-744-9518.