This is an archived article and the information in the article may be outdated. Please look at the time stamp on the story to see when it was last updated.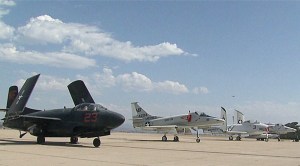 MIRAMAR, Calif. — One day before it was supposed to start, the annual Miramar Air Show became a casualty of the government shutdown, with the military Thursday announcing its cancellation.
"The timing couldn't be worse, but it is what it is," Col. John P. Farnam, commanding officer at Marine Corps Air Station Miramar, told reporters.
He said people who bought special access passes would be reimbursed, as would all event sponsors.
Farnam learned of the cancellation from the Defense Department early today. He said the event was already paid for and organizers thought it could proceed, but guidelines pertaining to the government shutdown forbade it.
"Personally I'm disappointed …  from the bottom of my heart," Farnam said. "I apologize to San Diego for having to stand here and make this statement."
The 58th annual aerial extravaganza was scheduled for Friday and Saturday at Marine Corps Air Station Miramar. Even before the cancellation, the show was scaled back from its usual three days to two after the Defense Department announced that military flight demonstrations — including the Navy's wildly popular Blue Angels — would not be allowed due to the automatic spending cuts known as "sequestration."
Todd Gloria, interim mayor of San Diego, said residents were looking forward to their annual pilgrimage to the base to celebrate the armed forces. San Diegans love the air show and go every year to enjoy it, he said at his weekly media briefing.
"The emotional and economic impacts of losing this year's event are great, and I'm extremely disappointed in the political dysfunction that brought us to this point," Gloria said.
Proceeds from the event go to programs that support families of military personnel, he said.
"It shows how illogical things are back in Washington, that you can take a money-making event and cancel it under the auspices of saving money," Gloria said. "It's bizarre and emblematic of the problems we're having back in the nation's capital."
Councilwoman Lorie Zapf, who donated office funds in an effort to keep the air show afloat despite sequestration cuts, said she was "really disappointed in this last-minute cancellation of the Miramar Air Show."
"It is unfortunate for the entire San Diego community, but it is especially unfortunate for the military families who depend on the programs provided by Marine Corps Community Services," Zapf said.
She said her office was reaching out to base officials to see how the community might be able to provide assistance to the family programs.