This is an archived article and the information in the article may be outdated. Please look at the time stamp on the story to see when it was last updated.
IMPERIAL, Calif. – A Yuma-based Marine jet fighter crashed into a residential neighborhood destroying three homes in Imperial Wednesday afternoon, authorities said.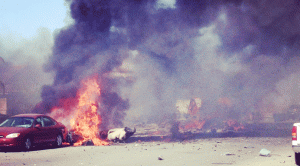 The AV-8B Harrier jet went down at Fonzie Avenue and Cross Road, about 115 miles east of San Diego, around 4:20 p.m., according to Marine Corps Air Station Yuma officials.
The fiery crash damaged civilian homes, said Maj. Carl Redding Jr., spokesman for the air wing. Although at least one of the homes was occupied at the time of the crash, nobody on the ground was injured, military officials said Thursday.
Eight homes were evacuated while officials conducted an investigation into the incident, Imperial City officials said. Five of the families were allowed back into their homes. The Red Cross worked with military officials to find temporary housing for the other three families.
The pilot attached to the Miramar-based Third Marine Aircraft Wing was able to safely eject, MCAS officials said.  Medics took the pilot to a hospital where he was treated for minor injuries and released.
"I saw the pilot eject, then his parachute open. Then, I saw the plane start wobbling and plundering down," said Elias Alarcon, a witness to the crash. "I saw the pilot hit the pavement really hard. When I got there he was unconscious. I thought he was maybe dead."
The cause of the crash was under investigation, Redding said. Thursday, dozens of Marines were in the neighborhood collecting evidence that would be used in the investigation.
The crash in Imperial was the second of its kind in less than a month involving a Yuma, Ariz.-stationed Harrier attached to Miramar's 3rd MAW. On May 9, a Harrier crashed on an unpopulated area of the Gila Indian Reservation, about 40 miles southeast of Phoenix. Like Wednesday's crash, the pilot in the May 9th incident survived and no one on the ground was injured.
According to the Yuma Sun, the two latest crashes are part of a total of 11 Harrier crashes that have occurred in southwest Arizona and California since 1996. In those 11 crashes, two pilots died and two people on the ground suffered minor injuries.
The Harrier, known for being able to take-off and land vertically, which gives it the nickname of Jump Jet, is a subsonic jet aircraft that is being phased out. The U.S. military says the British-developed Harrier has reached its natural life cycle after being in use since the late 1970s and early 1980s.
Military plane crash in Imperial. Multiple homes on fire. Pilot safely ejected. No reports of fatalities on ground. pic.twitter.com/mKW3O3lMPW

— Alex Perez (@AlexPerez83) June 5, 2014