This is an archived article and the information in the article may be outdated. Please look at the time stamp on the story to see when it was last updated.
SAN DIEGO — More than 500 members of military families separated by deployment during the last holiday season had a chance to make up for lost time Monday at the seventh annual "Christmas You Missed."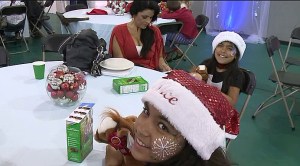 Organizers transformed the Murphy Canyon Youth Center into a winter wonderland and recreated a holiday morning for about 150 service members and their families, complete with falling snow, Christmas carols and an appearance from Santa Claus. The event takes about 100 volunteers five months to plan and set up.
More than 75 commands from six military installations were represented at the event, according to event hosts, the Armed Services YMCA San Diego.
"At the ASYMCA, we know how difficult it can be for military families to spend the holidays apart — so seven years ago, we decided to bring it to them in June," Executive Director and retired Navy Capt. Paul Steffens said. "This is our collective opportunity to give a heartfelt `thank you' to those brave men, women and families who serve us every day."
One mother of three told Fox 5 her husband was deployed for Christmas and having him be able to share this experience meant the world for their children.
Military families donned holiday outfits or pajamas for a walk through falling snow and were served a hot breakfast, accompanied by costumed carolers, dancers and music from family-friendly band Hullabaloo and the 3rd Marine Aircraft Wing Band. The youth center was made more festive with red Marine Humvees, live Christmas trees and poinsettias. The event also featured gingerbread cookie decorating, face painting, Christmas crafts, outdoor bowling, bounce houses and raffles, according to organizers.
The kids got a special treat with an appearance by "Chopper the Biker Dog," who serves as a therapy dog and comedy relief.  Chopper sat behind the wheel of a small electric Harley Davidson bike. His owner operated the remote-controlled bike as it weaved through the crowd giving kids plenty of joy.