This is an archived article and the information in the article may be outdated. Please look at the time stamp on the story to see when it was last updated.
SAN DIEGO – Border officials confirmed Thursday's flight carrying migrants to San Diego was canceled amid immigration activists' demonstration downtown Wednesday.
A crowd of about 100 people performed a ritual Wednesday in front of the Immigration and Customs Enforcement building in downtown San Diego. Their prayers were for the well-being of the migrants who recently arrived from Texas.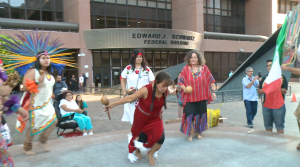 The group prayed and stood in support of the women and children flooding the Texas border.
"It's for the children, they're innocent," said a women dressed in indigenous Azteca clothing.
This was a far outcry to last week's protests in Murrieta where demonstrators demanded the migrants leave and be taken back to Texas where many of them crossed illegally.
Tens of thousands of migrants have shown up at the Texas border requesting asylum from their Central American countries, considered to be some of the most violent in the world.
At least 400 of migrants were flown to San Diego to relieve the surge in Texas.
Border Patrol union officials told Fox5 a fourth flight filled with migrants expected to arrive in San Diego Thursday was cancelled and that no other flights have been scheduled until further notice. They believe the situation in Texas is improving.
The migrants brought to San Diego are slowly being released from the ICE building downtown, to await their day in court with an immigration judge that will either grant them asylum or order their deportation.