This is an archived article and the information in the article may be outdated. Please look at the time stamp on the story to see when it was last updated.
SAN DIEGO — Tens of thousands of dollars in scholarships were handed out Tuesday in San Diego and it's not tax-payer money, nor is it private money.
Mexico's President Enrique Peña Nieto gave out $45,000 in scholarships to 160 students of Mexican descent living in San Diego, who are in tough spot.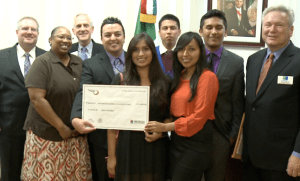 Alejandra Garcia was brought to the U.S. illegally by her family when she was a young girl.  When she turned 18 years old, her family decided to go back to Mexico – she stayed behind to finish school.
Garcia's undocumented status makes scholarship options slim to none, so her share of the scholarship money, about $600, will be put to good use.
"My books for my last semester," said the Southwestern College sophomore.
The scholarship money will also help some of San Diego's adult education programs that help people like Francisca Hernandez Nuñez, a 47-year-old mother of four who cleans houses for a living in Vista and recently graduated from the sixth grade.
"I am now learning in English," Nuñez added.
The scholarship program, IME Becas, has been around for 5 years and has made over $5 million in scholarships available to 34,000 students across the United States.