This is an archived article and the information in the article may be outdated. Please look at the time stamp on the story to see when it was last updated.
SAN DIEGO, CA — Mexico didn't disappoint in its first World Cup match against Cameroon Friday, nor did the fans in San Diego.
"I took off work today," said Joe Piackney, at Blue Foot sports bar in North Park.
He and around 100 fans packed the bar for the morning match.
"I'm actually going to work at noon. I just had two beers, I'm having a shot right now," said another fan.
Bartenders served their first Margarita at 8 AM. It was a tense game as Mexico struggled to score.
"Si se puede," the crowd cheered.
Finally, the crowd favorit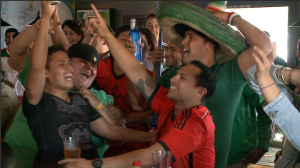 e scored.
"There were a lot of bad calls, but we'll take this win," said Mexico fan, Carlos Romo.
There were no visible Cameroon fans at the bar. Mexico will now get ready to play the home team, Brazil, on Tuesday.