This is an archived article and the information in the article may be outdated. Please look at the time stamp on the story to see when it was last updated.
PINE VALLEY, Calif. — A Mexican couple were arrested at the Border Patrol checkpoint in Pine Valley on suspicion of smuggling more than $22,000 worth of methamphetamine in their car, which was also carrying their three children, the federal agency announced Tuesday.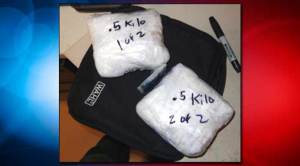 The couple's 2010 Toyota Venza was stopped at the Interstate 8 checkpoint about 6 p.m. Thursday, and the 32-year-old driver passed his permanent resident card to agents, according to a Border Patrol statement. However, the passenger had immigration documents that had been cancelled.
A drug-sniffing dog alerted agents as they questioned the woman, and a subsequent search of the car turned up 2.21 pounds of methamphetamine hidden in a tote bag in the center console, Border Patrol officials said.
The man and woman were arrested on possession of a controlled substance and handed off to the Drug Enforcement Administration, authorities said. The three kids, all under 10 years old, were turned over to a U.S. Department of Health and Human Services protective services officer.
The car was seized by Border Patrol agents, according to the agency statement.