This is an archived article and the information in the article may be outdated. Please look at the time stamp on the story to see when it was last updated.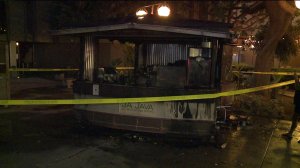 SAN DIEGO — A mental competency evaluation was ordered Wednesday for a homeless sex offender accused of setting fire to several trash bins and coffee carts in Hillcrest and downtown San Diego over a three-hour period.
David Kelley Lawson is charged with 15 counts of arson and faces more than 300 years to life in prison if convicted, prosecutors said.
According to the state Megan's Law website, Lawson has a prior conviction for committing a lewd act on a child.
At a hearing Wednesday, Lawson's attorney told a judge he doubted his client's ability to understand the charges against him and his ability to assist the attorney at trial. As a result, the judge suspended criminal proceedings and ordered the defendant to be examined by doctors on the issue of mental competency.
Lawson, 57, is accused of setting the fires between 2 a.m. and 5:30 a.m. on Sept. 12.
Prosecutors said the defendant was carrying eight disposable lighters and had melted and burned materials on the front of his clothing when he was arrested.
According to Capt. Ed Filio of the San Diego Metro Arson Strike Team, the arson series started around 2 a.m. in Hillcrest. He said another batch of fires were started just before 4 a.m. next to City Hall, where firefighters also found garbage and a mobile coffee stand in flames.
Shortly after 4 a.m., a security guard at the Edward J. Schwartz Federal Building saw someone trying to set fire to some cardboard and reported him, Filio said.
A second coffee cart was damaged by fire at nearby Horton Plaza.
Fire officials said damage from all the fires combined was estimated at $55,000, with most of that coming from the mobile coffee stand near City Hall.