This is an archived article and the information in the article may be outdated. Please look at the time stamp on the story to see when it was last updated.
SAN DIEGO – Nearly a month after a deadly hit and run in North Park, loved ones gathered Monday to honor the victim, a popular figure in the San Diego theater community.
A memorial service was held at the Old Globe Theatre where Seamus O'Bryan served at the props master. O'Bryan had also spent years working at the La Jolla Playhouse.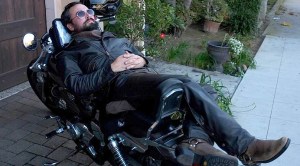 Though the search continues for the driver who killed O'Bryan, Monday's service was not about the tragedy, but about celebrating his life. Hundreds packed the Old Globe to share stories and honor their friend and family member.
Attendees were not just colleagues from the theater world. Many of them knew O'Bryan through his humanitarian work. O'Bryan volunteered on a multitude of projects, including in the South Pacific on the island of Vanuatu and in Haiti after the 2010 earthquake.
Along the way he made hundreds of lifelong friends.
"I'm jealous of all of you out there who knew Seamus for the humanitarian, the seafaring pirate that he was," said Bob Dougherty, Old Globe Theatre colleague. "And all those fabulous memories that you have, that you will always have of him and all those good times. Be thankful for those memories, because I know he was."
The crowd heard how O'Bryan helped start clinics with Project Marc. They heard how he delivered a child in the jungle in Vanuatu. They heard how he inspired young children to live their dreams in life. They heard how he helped calm the nerves of new actors.
Though his life was cut short, loved ones said the lessons he taught will live on forever. Perhaps the most important lesson: living each moment of life to the fullest.
"I think many of us find that there are many seconds we waste during our day, during our lives," said Michael Murphy, Managing Director for Old Globe Theatre. "He taught us not to waste anything."
O'Bryan was killed in late January in a hit and run crash at the intersection of University Avenue and Grenada Avenue. Police said they believe the motorcycle he was riding was struck by an off white 1998-2000 Cadillac El Dorado ETC sedan with minor or moderate damage to the passenger side fender, door or bumper. Investigators believe the vehicle has tinted windows and stock wheels.
As of Monday evening the search for the driver and car continued. Investigators said they are still actively searching and continuing to follow up on tips as they come in.
Despite the tragedy, O'Bryan's family continues to focus on forgiveness.
"They're such caring, loving people and forgiveness is important to them," said Murphy. "That sense of forgiveness that they have is what helped shape Seamus and all the things that made him so special and wonderful."
An after-party continued late into the evening in the courtyard of the Old Globe. Loved ones paused to be thankful for each moment they got to spend with him. And fittingly, as they did so, O'Bryan's favorite Irish band played in the background.
If you have any information on the hit and run, you are asked to contact the San Diego Police Department or CrimeStoppers.