This is an archived article and the information in the article may be outdated. Please look at the time stamp on the story to see when it was last updated.
Former California gubernatorial candidate Meg Whitman confirmed Tuesday that she had signed a legal brief supporting same-sex marriage, saying her views on Proposition 8 had changed "after careful review and reflection" and that "the time has come" for marriage equality.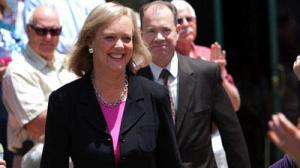 The Hewlett-Packard CEO was one of dozens of prominent Republicans who, according to The New York Times, has signed an amicus curie brief supporting a lawsuit seeking to strike down Proposition 8, California's voter-approved state constitutional amendment banning gay marriage. After years of litigation in lower courts, the U.S. Supreme Court is scheduled to hear arguments about the constitutionality of the ban next month.
In a statement posted on LinkedIn, Whitman explained her new stance on same-sex marriage — when running for governor in 2008, she supported Proposition 8.
"At the time, I believed the people of California had weighed in on this question and that overturning the will of the people was the wrong approach," Whitman wrote. "The facts and arguments presented during the legal process since then have had a profound impact on my thinking."
Whitman wrote that there is "no legitimate, fact-based reason for providing different legal treatment of committed relationships between same-sex couples," calling marriage "the fundamental institution that unites a society."
"It is the single greatest contributor to the well-being of adults and children because it promotes eternal principles like commitment, fidelity and stability," she wrote. "It makes no different whether the marriage is between a man and woman or a woman and woman. Marriage makes society better."