This is an archived article and the information in the article may be outdated. Please look at the time stamp on the story to see when it was last updated.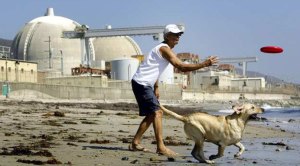 SAN DIEGO — A public meeting on the decommissioning of the San Onofre Nuclear Generating Station in northern San Diego County will be held Sept. 26 , the Nuclear Regulatory Commission said Thursday.
The hearing at the Omni La Costa Resort and Spa will focus issues surrounding the decision by Southern California Edison — the plant's operator and majority-owner — to close the two reactors.
The NRC's technical staff will give a 45-minute presentation on the decommissioning process and regulations and will then take questions from the public.
Troubles at the plant, which delivered 20 percent of its power to San Diego Gas & Electric, began in January 2012 when a small, non-injury leak was discovered in one of the two reactors. The other unit was shut down for maintenance at the time.
A subsequent investigation by Edison revealed excessive wearing of pressure tubes caused by vibrations in massive steam generators manufactured by Mitsubishi Heavy Industries of Japan and installed in 2010 and 2011. The utility is taking legal action against Mitsubishi.
Rosemead-based SCE announced in early June that it would retire both reactors, after a plan to restart the unit where the leak did not occur ran into opposition.
The meeting is scheduled to begin at 6 p.m. at the hotel at 2100 Costa del Mar Road. The doors will open at 5 p.m. to allow for security screening.