This is an archived article and the information in the article may be outdated. Please look at the time stamp on the story to see when it was last updated.
SAN DIEGO – Patients and hospital workers in Sorrento Valley got quite a scare after a noxious smell forced an evacuation at local medical facility Tuesday.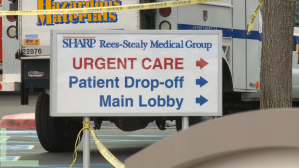 About a hundred people were evacuated and several seriously sick after a toxic fumes circulated at Sharp Ress-Stealy medical facility at the 10200 block of Genetic Center Drive about 8:30 a.m. through the air conditioning system.
"We didn't know if it was bomb threat, a leak or a hostile environment," said Christine Esparanza, a Sharp Ress-Stealy patient
"Initially, one patient with watery eyes, itchy throat and nauseous and began vomiting," said San Diego Fire-Rescue spokesman Maurice Luque. "Then, a second person complained of the same ailments and also started to get sick."
In a matter of minutes, nine people fell ill.   The noxious odor started near the first floor urgent care department and quickly moved to the second and third floors.
"The odor was described as something like burning plastic or rubber," Luque said.
HAZMAT crews swept with air monitoring devices found no evidence of a chemical danger, but during a second evaluation discovered a burnt-out air conditioning belt.
"It was not a chemical spill, not a fire, it appears to be an air conditioning belt that was faulty and caused burning rubber smell," said Sharp Rees-Stealy spokeswoman Alicia Cresap.
The medical facility was shut down for about five hours as crews worked to make sure air quality was safe. Patients arriving for appointments, understandably were shocked to learn what happen.
"The nurse that was helping us said it was an electrical issue on the first floor and a couple nurses that worked there passed out," Cresap said.
The nine patients were taken to area hospitals and treated for minor injuries and released.
People were allowed to return to the facility around 1 p.m.