This is an archived article and the information in the article may be outdated. Please look at the time stamp on the story to see when it was last updated.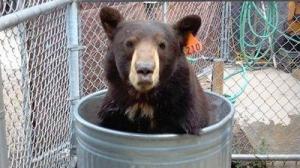 SAN DIEGO – Glendale's now-famous "Meatball" bear has conquered Twitter; now it's on to EBay.
Fans of the famous food-loving bruin can bid on special bear memorabilia starting Wednesday – just in time for the holiday season.
Officials at Lions Tigers & Bears animal sanctuary are auctioning off the  bear's orange California Department of Fish and Game ear tag, a paw print and a few locks of fur as part of a larger fundraising effort to build a habitat for the bear.
"The goal is for the highest bidder to have a piece of keeping Meatball," said Jen Jenkins, spokeswoman for Lions Tigers & Bears. "We're stuck at $105,000. We're hoping this will jumpstart things again. We know how many people have expressed interest in Meatball."
Read more about Meatball on latimes.com.