This is an archived article and the information in the article may be outdated. Please look at the time stamp on the story to see when it was last updated.
SAN DIEGO – Loved ones returned Wednesday to the Mojave Desert site where the McStay family was found buried last week.
A small public memorial is now in place where the victims' bodies were found near Victorville, CA.
Family members and volunteers erected four wooden crosses. The two larger crosses honor Joseph and Summer McStay. The two smaller crosses honor Gianni and Joseph, Jr.
Authorities are still waiting for final confirmation that the bodies of the children belong to Gianni and Joseph, Jr.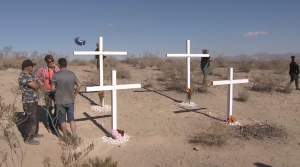 The public ceremony took place on the day Joseph McStay would have turned 44. Doves were released to honor the family.
"At least we can start the next phase of the process," said Michael McStay, brother of Joseph McStay.  "I guess that's what I'm taking away from it, that what was hidden is brought out into the light. It's out in the open and now we can go catch the individual who did this."
The McStay case has captivated many, including Lakeside resident Jerrie Dean who runs the website Missing Persons of America. Dean works with Joseph McStay's father, Patrick, and was shocked last week when he sent her a text message with the news.
"It's one of those things I'm never going to forget," said Dean.
Like Patrick McStay, Dean is now focused on bringing the killer to justice.
"He has about two three people on his mind that he thinks might have something to do with it," said Dean. "I've done my own research and I have a couple people in mind that I believe might have something to do with it. But there's nothing really definite."
The case has now been turned over to the San Bernardino County Sheriff's Department.
"I think that the law enforcement need to go back to the beginning and go back through all the files, in particular Patrick's own investigation that he's done," said Dean. "It's very, very thorough and it's full of lots of information."
In the meantime, Dean said she will continue updating her website as new information becomes available. She hopes simply that the McStay case and others will someday be resolved.
Missing Persons of America features thousands of missing persons' investigations.