This is an archived article and the information in the article may be outdated. Please look at the time stamp on the story to see when it was last updated.
CHULA VISTA, Calif. — Wendy Flanagan had never spoken publicly about surviving the McDonald's massacre until now.
On July 18, 1984, Flanagan was working a cash register at the McDonald's on San Ysidro Boulevard when she went to the back to get more ice when she heard the first of many shots fired by gunman James Huberty.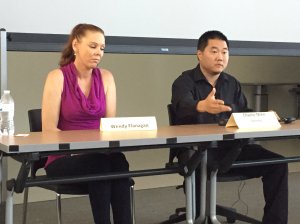 She and other co-workers hid in a basement closet for more than an hour as Huberty shot men, women and children inside and outside the restaurant. Some of the 21 people who died were employees including Flanagan's best friend at work.
"My friend next to me she had gold chains on with crosses and the Virgen de Gualdalupe. We held them and we prayed and we prayed the whole time," said Flanagan.
Flanagan's story of survival is part of a documentary film produced by Charlie Minn.
"There are stories about this tragedy that people don't know about, like people shielding their bodies so others wouldn't get shot," Minn said. "I want people to know all of those things about those people."
The film is titled "77 Minutes" after the length of time the massacre lasted.
The movie opens September 23 at the UltraStar Mission Valley Hazard Center before it opens nationwide.