This is an archived article and the information in the article may be outdated. Please look at the time stamp on the story to see when it was last updated.
MIRAMAR, Calif. – The U.S. military's first black pilots were honored Friday at Marine Corps Air Station Miramar.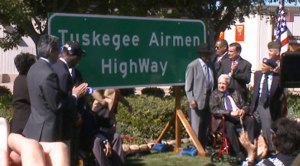 Major Gen. Steven W. Busby, the 3rd Marine Aircraft Wing commander, spoke about the Tuskegee Airmen during Friday morning's colors ceremony, according to 3rd MAW public affairs.
New signs designating a 3-mile stretch of Interstate 15 the "Tuskegee Airmen Highway" were unveiled at a ceremony at Miramar's Officers Club.
The renaming honored the men "who faithfully served America while fighting the enemy in World War II and segregation at home," according to a MCAS Miramar statement.
The I-15 stretch runs from Miramar to Mercy roads. Funding for new signage was raised by the Gen. Benjamin O. Davis Jr. Tuskegee Airmen Chapter in San Diego, which successfully lobbied the state legislature to approve the freeway renaming.
Three T- 34 aircraft performed a flyover followed by a WWII-era P-51 Mustang, of the type the Tuskegee Airmen flew in combat.
Sixty-six Tuskegee Airmen were killed in combat and another 33 were shot down and held as prisoners of war. Fourteen of them received the Bronze Star. In 2007, the Tuskegee Airmen were collectively awarded a Congressional Gold Medal.