This is an archived article and the information in the article may be outdated. Please look at the time stamp on the story to see when it was last updated.
SAN DIEGO — Craft beer, ice cream and chili will be at stake in the Chargers-Bengals playoff game thanks to a bet made Monday between the mayors of San Diego and Cincinnati.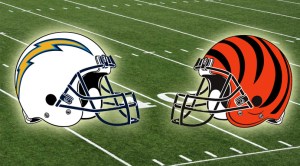 San Diego Interim Mayor Todd Gloria said on his Twitter account that he wagered craft beer from Thorn St. Brewery and Hillcrest Brewing Co., and promised to wear a Bengals jersey at his next media briefing if the Chargers come up short in Sunday's contest in Cincinnati.
He said that if the Bolts prevail, Cincinnati Mayor John Cranley will send him food samples from three chains based in the Queen City — Gold Star Chili, Graeter's ice cream and barbecue from Montgomery Inn.
"I've heard nothing but great things about the chili, ice cream and barbecue in Cincinnati," Gloria said. "I'm looking forward to tasting all of it."
The teams will play for the second time this season. The Bengals downed the Chargers 17-10 at Qualcomm Stadium last month.