This is an archived article and the information in the article may be outdated. Please look at the time stamp on the story to see when it was last updated.
SAN DIEGO – Environmental activist and outdoor preservation groups in San Diego gathered Monday evening to probed mayoral candidates about various issues.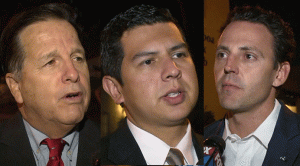 Less than a month to go before the mayoral election, candidates are fighting for every vote and endorsement. Monday night, they answered questions at a forum at Balboa Park hosted by the Sierra Club.
The club has 12,000 members in San Diego County and has not endorsed any of the mayoral candidates.
About a hundred members questioned candidates former City Attorney Mike Aguirre, ex-Assemblyman Nathan Fletcher and City Councilman David Alvarez about topics ranging from global warming to seals in La Jolla.
"It gets lost in the conversation when people run for mayor and in debates.  We hardly talk about it.  It's an important issue," said Alvarez.
"It's bred into who we are as San Diegans that we care about these issues," said Fletcher, regarding the issues from the members.
Councilman Kevin Faulconer was also invited to the forum, but was a no-show.  A representative said the candidate had a scheduling conflict.
Sierra Club officials said they expect to endorse a candidate within a week.