This is an archived article and the information in the article may be outdated. Please look at the time stamp on the story to see when it was last updated.
SAN DIEGO – The night leading up to the San Diego mayoral election, the candidates revealed Monday what they do to get prepared for the big day.
Fox5 caught up with Kevin Faulconer on his way out to dinner.  He shared his plan for Tuesday.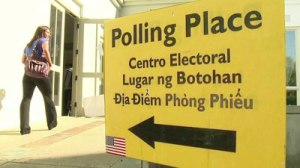 "We're going to get up and at them before dawn tomorrow," Faulconer said. "We're going to deploy volunteers throughout the city. I'll grab a cup of coffee and out I'll go."
Mike Aguirre was preparing to take his two dogs out for their evening walk Monday night.  He said he always does the same three things every Election Day morning.
"The three personal things  are  to leave when it's still dark, always start in San Ysidro and then make sure that I cover the entire city by the end of the day," said Aguirre.
Every Election Day, Nathan Fletcher does a physical workout with the same group of guys.
"I meet a bunch of buddies from college and we sneak in an early, early sunrise election day surf, and that's kind of our thing.  It's been successful more times than not. Not last time, but we're bringing it back," he said.
David Alvarez was at his campaign headquarters in Kearney Mesa Monday evening.  He was preparing packets with volunteers to hand out to his supporters Tuesday morning.
"We always go vote in the morning with my family – my wife, my daughter, she has been to every election," Alvarez said.  "My daughter is 4-years-old.  She's been with us to every single election."
The first results print out is expected Tuesday evening around 8 p.m.