This is an archived article and the information in the article may be outdated. Please look at the time stamp on the story to see when it was last updated.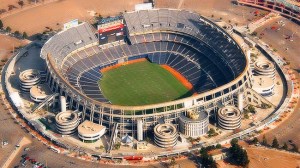 SAN DIEGO – The end of another season always leaves fans of the Chargers with a lot of questions about the future of the team and a new stadium.
Chargers President Dean Spanos said he believes the possibility of a new stadium comes down to the race for San Diego mayor.
"Until you get the mayor in place and we know who it is and what his vision is for the future of San Diego, it's hard for me to sit here and say, other than we need a new stadium," Spanos said. "We would like a new stadium and we need the support of the fans and the taxpayers, obviously, to help us get that done."
Monday Fox 5 spoke with both mayoral candidates about the Chargers' future and whether they'd support a publicly funded stadium.
"I don't believe public funds are necessary and it's important that we bring all creative ideas to the table," said Kevin Faulconer. "I'm going to roll up my sleeves on a host of issues, primarily our streets and our infrastructure, but we can do multiple things at a time. And I'm confident that if we can put together a plan and a package that protects taxpayers that voters will have the ultimate say, that therein lies the ability to be successful."
Mayoral candidate David Alvarez had a  similar stance.
"I think we can build a new stadium for the Chargers without using public subsidies," said Alvarez. "I don't support that. I think our general fund is already constrained enough. We need to provide fire and police protection, build more parks, make sure our libraries and our roads are up to standards and so that's where our dollars need to go. I think at the end of the day the voters will need to help decide what the fate is of the Chargers stadium."
If negotiations moved quickly, Alvarez said he believes a measure could be on the November ballot.
Meanwhile the team has not yet announced whether it will exercise its termination clause with the city for the lease at Qualcomm Stadium. The Chargers can do so anytime between February 1 and April 20. If they do, the team is free to relocate.
Mark Fabiani, special counsel to the president of the Chargers, said the team usually waits until the season is over to make a decision and he expects a public announcement sometime in the near future.
Fabiani said the teams' goal is "to continue to try to find a publicly acceptable way to build a new, Super Bowl quality stadium in the San Diego region."