This is an archived article and the information in the article may be outdated. Please look at the time stamp on the story to see when it was last updated.
SAN DIEGO — After several days in which the San Diego mayoral campaigns accused each other of being less than forthcoming on donor identities and college experiences, the four major candidates took part in a polite debate Wednesday in which they discussed a variety of economic issues.
The lunchtime forum at the Wyndham San Diego hotel was hosted by the San Diego County Taxpayers Association and 10News and moderated by 10News anchor Kimberly Hunt.
The participants — former City Attorney Mike Aguirre, Councilmen David Alvarez and Kevin Faulconer and ex-Assemblyman Nathan Fletcher — are seeking to replace Bob Filner, who resigned in disgrace Aug. 30.
The special election is set for Nov. 19.
"Somebody said it's a great time to be the mayor, and I said it is, we can do all these great things, and he said no, the bar is very low," Fletcher quipped. "He said whoever comes next will be successful."
He said people in the future will look back to this time and say city leaders got it right.
"They invested in neighborhoods, they ensured a commitment to public safety, they launched an economic development plan," said Fletcher, who has led all the polls that have been made public. "But that is going to take a mayor who is willing to lead, it's going to take a mayor whose willing to focus on solutions, it's going to take a mayor who can bring people together."
Faulcon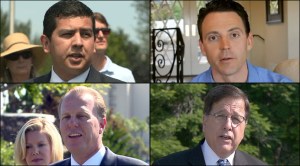 er, who has been placing second in the polls, said the past few months have proven that leadership and principles matter.
"You know who I am and where I stand," Faulconer said. "I'm not going to change my mind or my views depending upon what's politically convenient."
That was as close as anyone came in taking a poke at Fletcher, who has been criticized for leaving the Republican Party during last year's campaign after failing to secure the GOP endorsement, become an independent, and subsequently re-registering as a Democrat.
Alvarez acknowledged his differences of opinion with most of those in the audience but said people of all points of view have to work together because there is so much to accomplish.
"We've got to grow our … tax base, grow our city — make sure that our young people have opportunities … and make sure that there's economic development opportunities … and make sure that we have a vibrant city, a great city for all of our families," said Alvarez, who is third in the polls.
Aguirre, who has been running a distant fourth, repeatedly brought up the size of the city's pension liability, which he said is larger on an annual basis than the fire department budget. Funding for public safety and the various initiatives his opponents want to take is crowded out by the pension obligation, he said.
If no one wins a majority of the votes next month, the top two vote- getters will face each other in a runoff early next year.