This is an archived article and the information in the article may be outdated. Please look at the time stamp on the story to see when it was last updated.
SAN DIEGO — The top four Mayoral candidates faced off Tuesday afternoon during a debate at the San Diego Police Officers Association headquarters.
David Alvarez, Nathan Fletcher, Kevin Faulconer, and Mike Aguirre stood in front of a room filled with prosecutors and police officers to answer questions focused on public safety.
"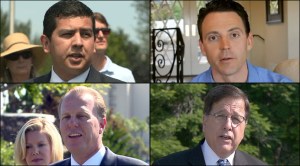 I'm going to be loud. I'm going to be vocal and I'm going to fight for our fair share," said Faulconer.  The San Diego Police Department has lost more than 1,000 police officers since 2006, each candidate was asked how they plan to recruit and retain officers.
"We're asking officers to do more with less," said Alvarez.  "That's why it's important to treat officers appropriately."
"I have a plan, and that plan includes getting us to 2000 officers by 2016," added Fletcher.
Each candidate promised their commitment to public safety and keeping citizens safe.
"I will not sue you, and I hope you do not sue me either," joked Aguirre.  "I promise I will be the best mayor you've ever worked with."
The candidates were asked eight questions and had one minute to respond to each.  Questions included how to handle the growing rise in gang violence, mental health concerns, and where exactly to place medical marijuana dispensaries.
"I think it needs to be clear," said Fletcher.  "And that (marijuana) stays out of the neighborhoods."
"We do not, and I repeat–do not want a proliferation of these in our neighborhoods," said Faulconer.
The POA plans to meet on Thursday to discuss who it will endorse for mayor.  They may announce their decision as early as Friday.