This is an archived article and the information in the article may be outdated. Please look at the time stamp on the story to see when it was last updated.
SAN DIEGO – A new round of negative political ads hit the airwaves Wednesday bringing out some strong words from the San Diego mayoral candidates.
With the special election for San Diego's next mayor less than two weeks away, candidates have started taking off the gloves.
"It's just an untruthful ad," said Democratic candidate Nathan Fletcher, who was the target of a negative ad. "Kevin Faulconer should be ashamed for lying."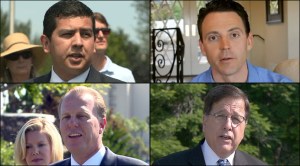 Republican candidate Faulconer's ad claims Fletcher was a part-time State Assembly member, who missed dozens of days at work.
"He didn't show up for work and still took a taxpayer funded paycheck," said Faulconer, who is standing behind the ad saying it's not negative because it's based on facts.
"He says I missed 60 percent of days in Sacramento," said Fletcher. "What he doesn't tell you is that ¾ of those days there was not a single vote being cast. So, its just an untruthful ad."
"If I had a record like Kevin Faulconer's – where we've gone from the eighth worst roads to the fourth worst roads and refused to give firefighter death benefits – I would be lying about someone else's record, too," Fletcher said.
Meantime, a Faulconer ad where he gets a glowing endorsement from former Mayor Jerry Saunders is now being scrutinized.  Democratic candidate Michael Aguirre is calling a seemingly positive ad misleading.
The ad refers to a funds used to rebuild city street neighborhoods.
"A billion dollar lie is not something the people of San Diego can endure," Aguirre said.
"Not so fast" said Aguirre. "You tell the public there is a billion dollars to repair our neighborhoods and there is not a billion dollars."
According to Aguirre, the billion dollars from savings in pension reform Faulconer is campaigning on, won't yield anywhere that sum and won't be seen for 30 years. He's asking Faulconer and Sanders to retract the ad.
"Number one apologize, quit repeating the falsehood and do a corrective ad and let's get back to the debate," Aguirre said.