This is an archived article and the information in the article may be outdated. Please look at the time stamp on the story to see when it was last updated.
SAN DIEGO – San Diego Mayor Bob Filner released a statement Monday evening after his former communications director filed a lawsuit accusing him of sexual harassment.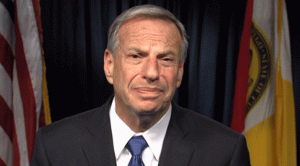 A complaint was filed in San Diego Superior Court on behalf of Irene McCormack Jackson, who was until recently was Filner's director of communications.
Filner addressed the lawsuit with the following statement:
"I am saddened by the charges that were leveled against me today.  Once due process is allowed to unfold,  I am certain there will be a better understanding of this situation."
"I remain committed to the people of San Diego and the work that needs to be done.  My dreams and plans for moving this City to new heights are continuing.  I humbly ask that through this vicious storm of controversy, people take a moment and temper their rush to judgment.
"I do not believe these claims are valid.  That is why due process is so important.  I intend to defend myself vigorously and I know that justice will prevail."
McCormack, a former longtime San Diego journalist, said being introduced as part of Filner's administration was one of the proudest days of her career. She said she gave up a position as vice president with the Port of San Diego, and accepted a $50,000 pay cut, so she could join what she thought would be a progressive administration.
"However, the past six months turned out to be the worst time of my entire working life," McCormack said. "I had to work and do my job in an atmosphere where women were viewed by Mayor Filner as sexual objects or stupid idiots. I saw him place his hands where they did not belong on numerous women."
Filner also demanded kisses and dragged McCormack along in a headlock while making sexual remarks, according to her attorney Gloria Allred, who is known for handling high-profile women's rights cases.
RELATED STORIES:
Ex-aide sues Filner for sexual harassment
Hotline set up for possible Filner victims
Democrats don't ask Filner to step down