This is an archived article and the information in the article may be outdated. Please look at the time stamp on the story to see when it was last updated.
SAN DIEGO — Mayor Bob Filner outlined an ambitious program for San Diego Tuesday night in his first "State of the City" address, while acknowledging the still-precarious condition of municipal finances.
Among the plans Filner announced at the Balboa Theatre in downtown San Diego were negotiating a five-year labor agreement with the city's six unions in order to provide future budget stability; revitalizing infrastructure in older, urban neighborhoods; reorganizing the Development Services Department; creating a plan to mitigate the effects of climate change; reforming and streamlining the process of obtaining city permits; and giving the Fire-Rescue Department a new emergency alert system.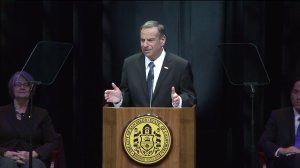 Filner announced that the city will open an office in Tijuana on Feb. 1. The following day, Filner will begin holding Saturday morning office hours in the lobby of the City Administration Building so he can talk with constituents, he said.
Filner also announced earlier today that the San Diego Chargers informed him they will not exercise the escape clause in their contract that would allow them to move to another city. The team will also not complete an application to the National Football League to express interest in moving to Los Angeles, he said.
"The end of redevelopment in California has complicated efforts to find a way to keep the Chargers in San Diego," Filner told a standing-room only crowd.
"Developing a plan that provides a net benefit to taxpayers will not be easy, but I commit to you tonight I will work to make sure that our `Bolts' don't bolt."
Filner said he hopes to present the labor agreement to the City Council in April.
Its centerpiece would be a freeze on employees using any compensation above base salary when they later compute their retirement benefits, a key provision of a pension reform initiative passed by voters in June.
"This will be a huge step forward in stabilizing city finances, to the benefit of taxpayers and to our loyal city employees," Filner said.
"And we're going to accomplish this without scapegoating our employees or using strong-arm tactics. We will do it through good-faith collective bargaining and mutual respect."
Filner acknowledged that the budget, once expected to be in a surplus in the fiscal year to begin July 1, could reach a shortfall of $40 million — due in part to adverse rulings on redevelopment and a required contribution by the city to its employee pension system.
"After years of austerity and sacrifice by residents and city workers alike, a recurring budget deficit is a big disappointment to all of us," Filner said.
"But if we learned anything from the mistakes of the past, it's that it is better to be truthful about these problems than to cover them up."
On the plus side, many other big cities are only now confronting their fiscal problems, are still mired in housing slumps and lack — or fail to take advantage of — assets like a diverse population or the international border, Filner said.
"We have an opportunity in San Diego to create a truly great international city — a city that respects and empowers its people, a city that protects and enhances their quality of life, and a city that promotes good- paying jobs and a healthy economy for all residents," Filner said.
After the speech, Councilwoman Lorie Zapf told City News Service she agreed that Filner's agenda was ambitious and hopeful.
"It's all going to be tempered by the reality of whatever finances we have, we have to live within the money that comes into the city," Zapf said. "We're going to have to prioritize."
Zapf said she was glad to hear Filner put an emphasis on starting a planned expansion of the San Diego Convention Center, which will generate revenue for the city.
However, Zapf said she was disappointed that Filner failed to mention managed competition, a program started by his predecessor to save money by taking competitive bids on city services.
Filner also handed out the first in a series of awards he intends to give to those who have made a difference in San Diego over the years.
His "Living Legends" awards went to homeless advocate and fundraiser Father Joe Carroll; Baseball Hall of Fame member Tony Gwynn and his wife Alicia; San Diego Padres announcer Jerry Coleman and his wife Maggie; philanthropists Ernest and Evelyn Rady; political activists Gloria Johnson, Eileen Haag and her husband, Ira Lechner, and Jess and Jane Haro; former Sen. Lucy Killea and former San Diego County Supervisor Leon Williams and his wife, Margaret.
Filner said he planned to issue such awards throughout his tenure as mayor.
—- Story by City News Service reporter James Riffel.