This is an archived article and the information in the article may be outdated. Please look at the time stamp on the story to see when it was last updated.
SAN DIEGO — Mayor Bob Filner introduced the first two dozen appointments to his staff Monday, describing them as an energetic reflection of San Diego's diverse community.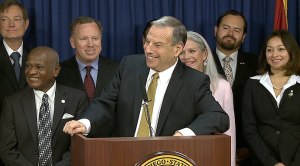 The staff is half female, one-third Latino and 25 percent black, according to Filner.
He said more than half have worked for him before, either when he was in Congress or serving on the City Council. They have a confidence in each other and an understanding that he runs an "intense" operation, the mayor said.
"They all know what they're getting into," Filner said. "I think they have an energy and a competence that is unmatched."
The appointees include former Councilwoman Donna Frye, in charge of open government and transparency; longtime Filner aide Vince Hall, chief of staff; former H.G. Fenton executive Allen Jones, deputy chief of staff; Nelson Hernandez, deputy chief operating officer; and Irene McCormack, communications director.
The city's chief operating officer, Jay Goldstone, is a holdover from the Jerry Sanders administration who agreed to stay on during the transition. Filner said Goldstone has warned him his departure could come sooner than expected.
A national search is under way for a chief operating officer and a chief financial officer, Filner said.
He said he also planned to hire executives to oversee energy, housing and veterans employment issues.