This is an archived article and the information in the article may be outdated. Please look at the time stamp on the story to see when it was last updated.
SAN DIEGO — It was unclear when Mayor Bob Filner, accused of sexual harassment by more than a dozen women, would return to San Diego City Hall, while closed-door talks about his future in politics continued Tuesday.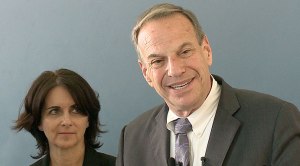 City Council President Todd Gloria and Councilman Kevin Faulconer entered the downtown high-rise this morning where, on Monday, a mediation session overseen by retired federal Judge J. Lawrence Irving lasted well into the evening.
Filner's former communications deputy, Irene McCormack, is suing Filner and the city, alleging sexual harassment. Her attorney, Gloria Allred, participated in the talks Monday, but was tight-lipped about the discussion. Allred said she would not be back today, but that mediation talks would continue.
Filner, who was at City Hall Monday, said through his Irvine-based lawyer, James Payne, that he took a "personal week" last week. Payne has not said when Filner might return to work.
On Monday, Filner's spokeswoman, Lena Lewis, declined to talk to City News Service. There was no immediate respose to a message today.
The mayor, publicly accused of sexual harassment by 17 women and under investigation for alleged misuse of city-issued credit cards and shakedowns of developers, had not been seen in public for about three weeks before Monday.
About 75 of his supporters rallied outside City Hall Monday, calling for Filner to be afforded "due process."
One woman defended the mayor.
"I have not been the recipient of sloppy kisses," the woman said, referring to accusations that Filner has forcibly kissed some of his victims.
Immigrant rights activist Enrique Morones said Filner was being tried in the news media or by "a kangaroo court."
Ex-Councilman Carl DeMaio, who lost the mayoral election to Filner in November, urged other politicians to use their political resources to support a recall effort that started Sunday.
DeMaio said some officeholders and organizations that have called on the mayor to step down have not aided the recall campaign.
"To have elected officials stand on the sidelines, cautiously waiting, is inexcusable — it's abdication of leadership," said DeMaio, who plans to run against Rep. Scott Peters, D-San Diego, next year. "And so I'm calling on these elected officials to put into action their networks of supporters, their resources, their campaign committees."
They can organize events, send emails and advise the recall campaign, he said.
Recall organizers need to gather about 102,000 voter signatures by Sept. 26 to qualify for the ballot.
All nine City Council members have called on Filner to resign, as have business leaders and others.
After apologizing for what he called a failure to respect women and for his "intimidating conduct," Filner checked himself into a two-week inpatient behavioral therapy program. The program ended Aug. 10, according to Payne, who said any further treatment would be on an outpatient basis.