This is an archived article and the information in the article may be outdated. Please look at the time stamp on the story to see when it was last updated.
SAN DIEGO — San Diego Mayor Bob Filner's fiancée, Bronwyn Ingram, has let it be known that their engagement is off.
In an email distributed Monday to friends and supporters, Ingram wrote that she was also stepping down as the mayor's spearhead on homeless issues in the city, San Diego City Commissioner Nicole Murray Ramirez confirmed.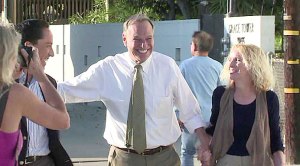 Ingram wrote in the email that a nonprofit she started after Filner's election, called Team First Lady, would be dissolved.
"I have broken off my engagement to Bob Filner and ended our relationship," Ingram wrote in the email, as quoted by CityBeat.
"I have struggled with this decision as I really wanted to see the community projects we had initiated with such enthusiasm come to fruition," she wrote. "I am extremely disappointed and heartbroken, both for what Team First Lady could have accomplished, and for me, personally; however, this is the only action I can take given the devolvement of our personal relationship."
Filner's office did not return a message seeking comment.
Ingram, 48, frequently appeared by the 70-year-old Filner's side during the former congressman's mayoral campaign but did not keep a high profile after he took office.
While the couple said they were engaged, wedding plans were never announced publicly.
The two met four years ago as part of their work duties. Ingram is a disability-claims analyst for the Social Security Administration.