This is an archived article and the information in the article may be outdated. Please look at the time stamp on the story to see when it was last updated.
SAN DIEGO – San Diego Mayor Bob Filner is accusing a North Park Jack in the Box restaurant of violating the conditions of a permit for remodel.
Filner said he is taking action after being contacted by various North Park community groups about the restaurant located at 2959 Upas Street.
Last year, Jack in the Box applied to the to San Diego Planning Commission to build a new restaurant at the North Park location. That application was denied, but the Commission approved a remodel.
The restaurant closed its doors on May 28 to begin the 10-week remodel, but Filner said he believes more than a remodel has taken place.
"It is outrageous to me th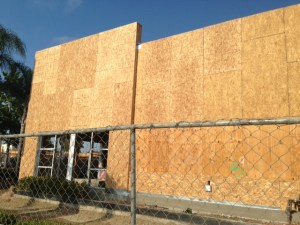 at Jack in the Box has completely misled the North Park community about this project, promising in writing, for example, that no exterior walls would be destroyed when, in fact, nearly all the of the exterior walls were destroyed," said Mayor Filner.
The letter Filner is referring to was sent form the Jack in the Box construction manager to the North Park Planning Commission on May 31. It clearly states, "We are not demolishing any of the exterior walls."
But Roger Lewis, a member of the North Park Planning Commission, said that isn't the case.
"Three and a half weeks ago the community came out here to find it basically torn down," said Lewis. "Except for say six or seven studs on one side and three on another."
Filner is siding with the community.
"They don't have right to build a new building," said Filner. "New walls means a new building. If they've torn down the old walls under the guise of a new model I think they are not in compliance with the permit."
Jack in the Box spokesman Brian Luscomb disagrees and released the following statement Friday: "We've been remodeling the restaurant in accordance with our permit from the City. The remodel is extensive, but our plans were reviewed by the City before it issued our permit."
Wednesday Filner sent a memo to the City Attorney's Office asking whether "a Stop Work Order should be issued against the Project" in accordance with municipal codes. He also asked the City Attorney's Office to "determine if the applicant has forfeited their vested rights to the continuing operation of the Project."
Luscomb told Fox 5 that Jack in the Box is "looking forward to discussing this with the City Attorney's office as soon as possible."
Luscomb also claims the community was not misled.
"That's not true," Luscomb said. "In addition to working with the City, we've shared our plans with the community along with elevations and a rendering of the new restaurant."