This is an archived article and the information in the article may be outdated. Please look at the time stamp on the story to see when it was last updated.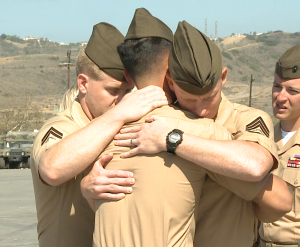 CAMP PENDLETON — It was a rare sight as a group of Marines showed emotion, consoling each other over the loss, of one of their own.
On that day nearly 2 years ago, Marine Lance Corporal Steven Stevens, a sweeper, looked for underground explosives as he guided the infantry through enemy fire in Afghanistan.
"They were met with immediate arm fire, so he had to sweep through that," said Marine Staff Sgt. Lloyd Crabtree, who was there.
Stevens was aware of the danger but continued to do his job for the sake of the men behind him.
He was killed while doing his job, managing to provide a safe way out for our troops on the ground.
"I would love to be as courageous as he was," said Crabtree in a solemn tone.
That courage was recognized with one of the highest military honors at a ceremony Monday in Camp Pendleton.
The fallen Marine's wife, Monique Stevens, and his 2-year-old son who never met his father, accepted the Bronze Star on his behalf.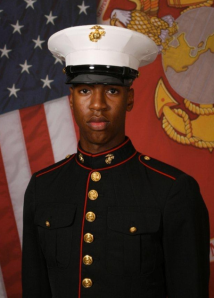 "It warmed my heart to know that all of his work was honored and not only that but they took the time to let my family, all of us be a part of that, that's a feeling I can't describe," said Stevens surviving wife.
The fallen 23 year old Marine was awarded for showing the type of bravery Marines say can only come through brotherhood.
"The cohesion and how tight the Marines are and how close they are that's what has helped the Marines deal with adversity," Crabtree added.
It's why this day meant so much, not just for Stevens' surviving family, but also to his Marines.
"I feel so much joy and pride," said Marine Cpl. Xavier Irizarry with tears coming down his face.
"I'm glad that my husband was able to serve with such honorable men," Monique Stevens added.