This is an archived article and the information in the article may be outdated. Please look at the time stamp on the story to see when it was last updated.
SAN DIEGO – The identities of the two Camp Pendleton Marines killed in a helicopter crash in Twentynine Palms were released Sunday.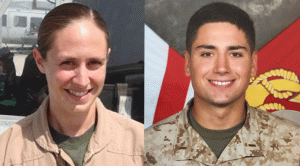 Capt. Elizabeth Kealey, 32, and 25-year-old 1st Lt. Adam Satterfield were the only two people aboard 3rd Marine Aircraft Wing UH-1Y Huey helicopter when it crashed at 4:40 p.m. Friday, according to MCAS Miramar officials.  They were in a training drill near Twentynine Palms.
Both Kealey of Indiana, Penn. and Satterfield, of Oldham, Ky. died in the crash.
"Our heartfelt thoughts and prayers go out to the families and loved ones of our fallen Vipers, and we stand poised to support them in this tragedy," said Lt. Col. James M. Isaacs, commanding officer of HMLA-169.  "Capt. Kealey and 1st Lt. Satterfield were both outstanding Marine Corps officers and talented helicopter pilots. I was fortunate to have the distinct honor of serving as their commanding officer."
Kealey had been in the Marine Corps since May 2005 and served as a helicopter pilot and weapons training instructor.  She had been deployed twice with the 13th Marine Expeditionary Unit and once in support of Operation Enduring Freedom in Afghanistan.
Her personal awards include the Air Medal with three Strike/Flight awards and the Navy and Marine Corps Achievement Medal with gold star in lieu of second award.
Kealey held faith close to her heart, according to members of The Fields Church in Carlsbad. Pastor David Fandey says Kealey took pride in serving her country, but had asperations of serving her community in other ways, by becoming a teacher.
"We knew that she had served her country well, but she was planning to get out this summer. So an accident like this just as she was about to get out just makes it doubly grievous for us," said Pastor Fandey.
Satterfield was commissioned in the Marine Corps in June 2011.  He served within HMLA-169 as a UH-1Y helicopter pilot and supported Marine Air-Ground Task Force training operations in the Southern California area.
"Our hearts go out to the families and friends of the two Marines we lost in this tragic accident," said 3rd MAW Commanding General, Maj. Gen. Michael A. Rocco.  "We at 3rd Marine Aircraft Wing stand ready to provide support to their families."
The cause of the incident is under investigation by military authorities.
Download Fox 5 iPhone app  |  Download Fox 5 Android app
RELATED STORIES: