This is an archived article and the information in the article may be outdated. Please look at the time stamp on the story to see when it was last updated.
CAMP PENDLETON, Calif. — Nearly 1,900 civilian employees at Camp Pendleton, Marine Corps Recruit Depot and Marine Corps Air Station Miramar were affected by furloughs prompted by the federal government shutdown, military officials said Tuesday.
At California and Arizona Marine Corps installations, 3,581 employees are subject to emergency furlough, according to officials with Camp Pendleton's public affairs office.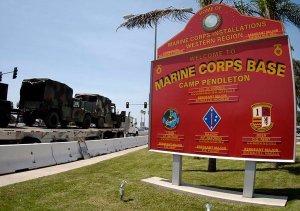 Nearly 1,200 employees at Camp Pendleton and its air station were affected by the emergency furlough, as were 360 employees at Marine Corps Recruit Depot and 328 Miramar employees, according to Camp Pendleton officials, who said civilian employees would be given as many as four hours today to turn on out-of-office email settings, set voicemails and otherwise secure their work space.
Public safety employees and employees that provide necessary utility services are exempt. Military pay was not affected.
Naval Hospital Camp Pendleton will remain open, as will its seven branch clinics, officials said.
"We have had to furlough some of our civilian staff, but in the short term, the shutdown will not affect our ability to continue to provide quality health care to our patients," said Capt. Mark Kobelja, the commanding officer. "As always, we remain committed to the health and well being of our patients and staff and will continue to do whatever is needed to take care of our nation's heroes and their families."
Camp Pendleton officials said that because of the federal government shutdown, base personnel and residents "may experience degradations in services and support from base agencies." That included the pass and ID office and base commissaries, which will try to sell off perishable goods today but be closed on Wednesday.
At Miramar, commissaries will close at 4 p.m. today, a base official said.