This is an archived article and the information in the article may be outdated. Please look at the time stamp on the story to see when it was last updated.
VISTA, Calif. — A Camp Pendleton-based Marine who shot up his apartment in Vista on Christmas night, prompting a standoff with sheriff's deputies, pleaded guilty Thursday to a felony charge of shooting at an occupied dwelling.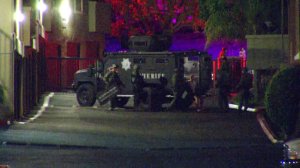 Christopher Michael Johnson has been accepted into San Diego's Veterans Court program, which helps members of the military with mental illness get treatment and reintegrate back into the community as productive citizens.
It's up to Judge Carlos Armour whether to allow Johnson to go into the program, said Deputy District Attorney Marnie Layon. He could also opt to sentence the 26-year-old defendant to as much as seven years in prison.
As a condition of bail, Johnson — who has a minimal criminal record — must continue to abstain from alcohol, not possess any firearms and stay confined to the Camp Pendleton base pending his May 15 sentencing. He must also continue to wear an alcohol- and home-detention monitoring bracelet, Layon said.
Johnson fired multiple rounds from his .44-caliber magnum revolver inside his apartment in the 900 block of Taylor Street in Vista around 11:50 p.m. Dec. 25.
"Rounds went through a flat-screen TV in the living room," sheriff's Sgt. Tom Ness said. "Another round, possibly fired through a bedroom patio screen door, traveled through a closed window of a nearby apartment. The window shattered and some of the vertical window blinds broke. Fragments of the bullet were located on a small kitchen table."
Sheriff's deputies attempted to contact Johnson by phone and via a public address system, Ness said. The Sheriff's Special Enforcement Detail was called to the scene after Johnson failed to respond.