This is an archived article and the information in the article may be outdated. Please look at the time stamp on the story to see when it was last updated.
LEMON GROVE, Calif. – A large marijuana grow was discovered inside a home in Lemon Grove after a violent home invasion robbery sent one man to the hospital, authorities said.
George Stevens said he was woken up at 1:30 a.m. Wednesday by a frantic neighbor pounding and screaming at his front door.
"I was shocked to see my neighbor knocking at my door with blood running down the front of his head," Stevens said. "He asked me to call 911."
His neighbor, who he only knows as Mr. Sweeney, along with two other men were the victims of a home invasion robbery in the 800 block of Blossom Lane.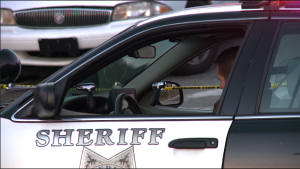 Four masked gunmen kicked open the front door of a home, according to San Diego Sheriff's Department investigators.
"He was pistol-whipped with a hand gun. He wasn't shot, but he was bleeding profusely," Stevens said.
Two other residents of the home were found hiding in the surrounding neighborhood, but the four gunman evaded arrest despite an all-night search, sheriff's deputies said.
Inside the home, investigators discovered significant marijuana grow and confiscated a number of weapons including rifles and a large safe, Sheriff's Sgt. Greg Hampton said.
"We found a lot of processed marijuana and one plant," said Hampton. "An investigation will continue to determine if any charges will be brought against them or not."
As for the violence of the robbery, Hampton said the residence was targeted for the marijuana.