This is an archived article and the information in the article may be outdated. Please look at the time stamp on the story to see when it was last updated.
SAN DIEGO -- An off-duty San Diego County sheriff's deputy was shot three times in the shoulder during a confrontation early Monday morning in downtown San Diego's Gaslamp Quarter, police said.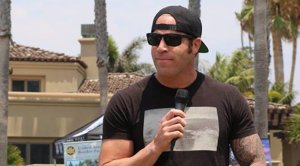 The deputy, identified by authorities as Jason Philpot, was walking with a group of people -- including two off-duty Escondido police officers -- when they were confronted by a man with a gun at 1:17 a.m. in the 500 block of Island Avenue, San Diego police officer John Buttle said. A struggle ensued, and the deputy was shot three times in the shoulder while a bystander was shot in the arm by an apparent stray bullet.
Police initially reported the victim was in a group of off-duty deputies, but San Diego police Lt. Ernesto Servin said the victim was the only off-duty deputy in the group and two others were off-duty Escondido police officers. Servin said law enforcement officers have discretion whether to carry a firearm when not on duty, but he did not know if any of the three law enforcement officers were armed.
The gunman's weapon was likely a revolver and left no shell casings, Servin said.
When the assailant pulled the weapon on the group, the deputy "started wrestling the suspect for the gun," Buttle said.
The deputy was struck three times in the shoulder, but was conscious and breathing when paramedics arrived, Servin said. He was taken to UCSD Medical Center in Hillcrest with non-life threatening injuries.
A bystander walking in the street was also struck in the arm by an apparent stray bullet and drove himself to a hospital in Coronado, Servin said. He was later transported to UCSD Medical Center, also with a non-life threatening injury.
"The investigation is ongoing right now," Servin said about 7:15 a.m. "We do have video from at least two businesses that captured the incident and the suspect."
Servin said earlier that police were conducting more interviews to determine what led to the confrontation.
"We know there was a confrontation," the lieutenant said. "But what was said? We don't know exactly."
#update: @SanDiegoPD gave another update - possibly 2 suspects based on new surveillance video.
Second suspect - no description avail pic.twitter.com/marSVkkBrS

— Aric Richards (@AricFOX5) August 7, 2017
This slideshow requires JavaScript.
The lieutenant initially reported they were searching for two suspects.  At 8 p.m., FOX 5 was told authorities were only looking for one person.
The suspected gunman was described as a black man in his 30s, about 5 feet 10 and 160 to 170 pounds, with shoulder-length dreadlocks, Buttle said. He was last seen wearing black shorts and a long-sleeve shirt.
The gunman was last seen fleeing south on Fifth Avenue and east on K Street, Servin said.
Several roads in downtown were expected to be closed until at least 9 a.m. Monday, including Sixth and Seventh avenues between Island Avenue and Market Street. The San Diego Police Department is leading the investigation in collaboration with the San Diego County Sheriff's Department.
"I go on Facebook and the first status I see is shooting on 6th and Island and I went great. That's what's going on," said Hotel Valet, Derek Miranda.
Hotel Z valet Derek Miranda says the early morning shooting and road closures near his hotel in the Gaslamp forced many employees like him to come up with some creative solutions.
"Instead of having to bring them up to the hotel. We had to bring them up J and then go the wrong way up 6th and kinda like swing them around and park them in front of the Courtyard and then we had to walk guests down to there," said Miranda.
The road closures left many who work and live in the Gaslamp with few options, unable to get into or leave the crime scene area.
"We were closing up and I just see the cops driving around like crazy," said bar employee Andrew Jones.
Andrew Jones works at a nearby restaurant and bar.  Unfortunately, he ended up stranded for most of the night since he happened to park his vehicle on one of the streets police closed off.
"Twenty plus cops, eight hours? Come on guys," said Jones.
Roads were eventually reopened 8 hours later around 9 .m. For many like Andrew Jones, it was a long, frustrating night and morning.
"All they have to do is just say your cars won't get towed or ticketed I'll be out. We're cool you can have it all day I guess. I understand crime scene happens I don't want to mess it up, but can we get some guarantees over here that's it,"  said Jones.
The shooting happened about three blocks northwest of Petco Park, where the rock band Metallica played a crowded concert Sunday night.
Anyone in the area who may have seen the incident or has information about the shooting was asked to call San Diego police at 619-531-2000.
Wishing for a speedy recovery for the deputy and the bystander who were victims of this senseless attack. #LESM https://t.co/Mw0NXlibbj

— San Diego Police Officers Association (@SDPOA) August 7, 2017