This is an archived article and the information in the article may be outdated. Please look at the time stamp on the story to see when it was last updated.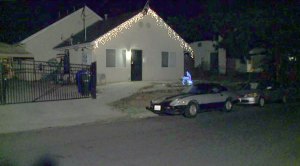 SAN DIEGO — A Paradise Hills man was hospitalized Monday with a shotgun wound to his chest after being attacked in front of his home but he was
expected to survive, police said.
The shooting in the 2300 block of Morningside Street was reported at 10:38 p.m. Sunday, according to San Diego police Officer David Stafford.
The gunman fled in an unknown type of vehicle, Stafford said in a statement.
Police were looking for a thin Hispanic man of around 5 feet 9 last seen wearing a white shirt, dark jeans and a black cap.
The motive for the shooting was under investigation.