This is an archived article and the information in the article may be outdated. Please look at the time stamp on the story to see when it was last updated.
SAN DIEGO – Cal State San Marcos went into panic mode Wednesday morning when someone thought there was a gunman on campus. Turns out, it was staff member walking with an umbrella because of the rain.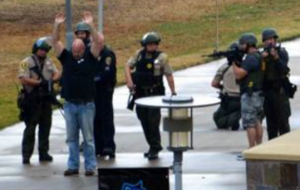 "Wow, did that really happen? You just don't think about going to work and getting guns put in your face and being handcuffed," said Bill Craig, a staff member for 17-years. "They padded me down, handcuffed me and asked if I had weapons which I didn't."
Wednesday morning he was walking back to his office from his car, and in his hand, he had an unopened, black umbrella.
"And this one had a carrying strap from the top to the bottom and I probably had it over my shoulder, I don't recall," said Craig.
Apparently someone thought Craig looked suspicious and called the campus police. Within minutes, Craig said he heard that the campus was lockdown.
On the intercom, Sheriff's deputies were looking for what they described as a tall, bald, white male with a black t-shirt.
"I immediately went … oh that's me," said Craig.
Craig walked out of his office to find deputies to explain the mix-up.
"I'm pretty sure I'm the person you're looking for, you just have the details wrong … I have an umbrella, not a rifle." said Craig. However, as per protocol, deputies ordered Craig to put his arms in the air and walk toward them.
I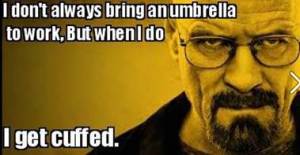 n the end, things were cleared up and Craig was let go without being arrested.
He said he is now trying to move and find the some humor in the situation.
He has since the incident posted a meme to his Facebook page, which reads, "I don't always bring an umbrella to work but I do – I get cuffed."
"Its disappointing where we are in society these days that we have the weariness about us assuming that other people might be up to no good."