This is an archived article and the information in the article may be outdated. Please look at the time stamp on the story to see when it was last updated.
SAN DIEGO — A man who wore a child's pink Barbie costume when he attacked a woman in a bathroom stall at a Clairemont-area Big Lots store last year was sentenced Friday to three years, six months in county jail.
Gregory Phillip Schwartz, 41, was convicted in January of felony false imprisonment and misdemeanor counts of assault and shoplifting. The jury, however, acquitted him of assault with intent to commit rape.
Because of time Schwartz has already served in the case, he will only spend about nine more months behind bars, according to Deputy District Attorney Mary-Ellen Barrett.
Barrett said the victim — identified only as Susan in court – went into the Big Lots store in the Clairemont Town Square Shopping Center on the afternoon of Feb. 28, 2014, and entered the women's restroom while talking on her cell phone. She then noticed a man's bare feet in the stall next to her.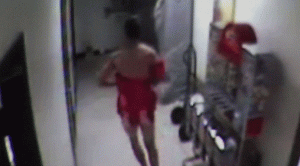 Schwartz crawled under a partition and grabbed the victim by the neck. She screamed, but he put his hand over her mouth and told her "Shhh," according to the prosecutor.
The victim told authorities that her attacker then put his hands in his waist. Fearing he was about to unbutton his pants, she fought him off and ran out of the restroom.
Store surveillance video showed Schwartz emerge from the women's restroom wearing the Barbie costume and go into the men's restroom. He emerged minutes later wearing pants and a Padres jacket, and exited the store.
During the sentencing hearing, Barrett read a letter from the victim in which she said the incident left her with fear, paranoia and sleepless nights.
Simple tasks are now "an anxiety-ridden ordeal," the woman wrote.
Judge Louis Hanoian said the victim was particularly vulnerable when she was attacked.
"She's in a public women's restroom, she's encountered by a large male human being," the judge said. "As a result of the encounter, the victim has suffered emotionally."
According to Defense attorney Brianne Murphy, Schwartz had been up for hours, "acting weird," drinking and using methamphetamine, prior to the encounter.
Schwartz was arrested in the Clairemont area two days after the attack. Police said at the time of his arrest that Schwartz was on probation for two misdemeanor convictions, including one for drugs.
Schwartz testified that he liked to dress up in women's clothing when he was high. He said he didn't try to rape the victim.
A doctor testified about a transvestic fetish that gives some people sexual gratification when they dress up in clothing more appropriate for the opposite sex when they're high on drugs.
Schwartz told the judge he wants to leave California when he gets out of jail. Barrett told reporters after the hearing that the defendant will be "a public safety risk wherever he goes."
Download Fox 5 iPhone app  |  Download Fox 5 Android app