This is an archived article and the information in the article may be outdated. Please look at the time stamp on the story to see when it was last updated.
CHULA VISTA, Calif. — A San Diego man who fatally stabbed his estranged wife in a parking lot at a South Bay sheriff's substation in February pleaded guilty Wednesday to first-degree murder.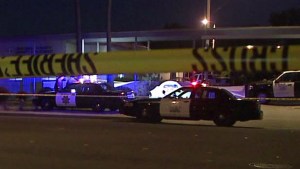 Marvin Dennis Duncan, 60, is due to be sentenced on July 26. He faces a stipulated 25 years to life in prison.
Shortly after 3:30 p.m. on Feb. 6, Duncan pressed an intercom button at a side door at the precinct house on Imperial Beach Boulevard, said sheriff's homicide Lt. Glenn Giannantonio. When a deputy answered, Duncan, who was holding two toddlers, announced he had just killed his spouse, according to the lieutenant.
The mortally wounded victim — Duncan's 36-year-old wife, Rocio — was found lying on the ground on the west side of the substation. She died a short time later.
Duncan was detained for questioning and later arrested. The children, who were unharmed, were taken into protective custody. The motive was under investigation.