This is an archived article and the information in the article may be outdated. Please look at the time stamp on the story to see when it was last updated.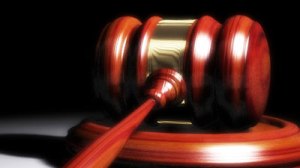 SAN DIEGO – A man who stabbed his partially blind girlfriend as she slept alongside their two children was convicted Wednesday of second-degree murder.
Quang Dang, 37, is scheduled to be sentenced Dec. 7 by Superior Court Judge Michael Smyth.
Deputy District Attorney Patrick Ojeil told jurors that Dang stabbed 27- year-old Myra Supiping in bed on Aug. 11, 2010, as she slept with their 2- and 7-year-old sons in the home they shared with his family.
Ojeil said Dang first stabbed the victim in the chest.
"He brought it (the knife) down with force," the prosecutor said.
Ojeil said the victim — who was blind in one eye and partially blind in the other — rolled onto her side and onto her 2-year-old and was stabbed in the back.
Two months before the murder, Dang and Supiping — who both had lower IQs — started talking on a "chat line" and Supiping ran up thousands of dollars on her cell phone, which upset Dang, Ojeil told the jury.
A week before she was killed, Dang hit the victim and she went to stay at her mother's house, the prosecutor said.
The day of the murder, the victim's brother dropped her off after an appointment and told the defendant, "Don't touch my sister," the prosecutor told the jury.
About 11 p.m., a relative heard a scream and rushed to the victim's side, according to Ojeil. He said Supiping's last words were "Quang stabbed me."
Ojeil said Dang threw the murder weapon into a rain gutter and retreated to a friend's home, where he was later arrested.
Dang told police that Supiping had cheated on him and he killed her in self-defense when she swung a stick at him, according to Ojeil.
"He said, 'I didn't want to kill her, I had no choice,"' Ojeil told the jury.
Defense attorney Shervin Samimi said Dang killed the woman he considered to be his wife out of anger and a diminished mental capacity.
Samimi said Dang was born to a single mother in Vietnam and was developmentally delayed. He's considered to be retarded and has the mental capacity of a 6- to 8-year-old child, Samimi told the jury.
The defendant couldn't work, but loved his two sons, his attorney said.
Dang got angry with Supiping when she started going out with men she met online and took the children with her, Samimi said.
"He drank the day she came back (home)," the defense attorney said.
Samimi said the defendant killed the victim in a "violent rage," bending the knife as he stabbed her. The attorney urged the jury to convict Dang of manslaughter.
Dang told police he didn't mean to kill Supiping, his girlfriend of eight years, according to Samimi.