This is an archived article and the information in the article may be outdated. Please look at the time stamp on the story to see when it was last updated.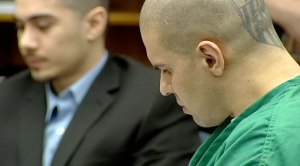 SAN DIEGO — A gang member who slashed an attorney on a cheek during testimony in his trial for trying to carry out a 2010 Mexican Mafia "hit" on a fellow inmate at Donovan State Prison pleaded guilty Tuesday to aggravated mayhem.
Eduardo Macias, 33, was convicted in December, along with 36-year-old Geronimo Polina, of conspiracy to commit murder, attempted murder and assault. Jurors also found that the July 5, 2010, attack on Victor Ortiz was carried out for the benefit of a street gang.
Macias faces life behind bars when he is sentenced May 21.
A third man, Lionel Quinteros, was acquitted of conspiracy and attempted murder, but convicted of assault by means likely to produce great bodily injury by a prisoner.
Regarding the attack on Ortiz, Macias said that he acted alone and didn't try to kill the victim.
"All I did was assault Ortiz with a weapon," Macias told the jury, saying the attack happened during a fight in a prison yard.
Macias said Ortiz lied in court about what happened and wanted revenge against the defendants and to see them be sentenced to life in prison.
Deputy District Attorney Hector Jimenez, in his closing argument, said the defendants conspired to murder Ortiz to end a power struggle for control of the prison.
The prosecutor said Macias was "lying in wait" with a razor while Polina brought the victim to where he was in a prison yard.
"It was a pre-planned, coordinated attack," Jimenez said. "They were told to do it. They had to do it."
A prison guard fired numerous rounds to stop the attack, the prosecutor said.
Polina's attorney, Frank Puglia, said Ortiz had been pushed out of the Mexican Mafia and felt betrayed by the prison gang.
Quinteros was sentenced to eight years in prison and Polina's sentencing is set for next month.