This is an archived article and the information in the article may be outdated. Please look at the time stamp on the story to see when it was last updated.
SAN DIEGO — A La Mesa man accused of posing as a doctor and promising patients he could cure cancer and HIV is guilty of theft and practicing medicine without a license, a jury said Friday.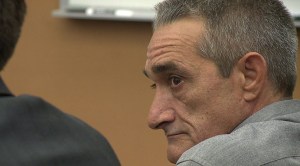 After two days of deliberations, the panel found Keith Barton, 51, guilty of six felony counts of treating people without a medical license, one count of false personation, and three counts related to grand theft.
During the trial, which began Tuesday, prosecutors said  the defendant called himself "Dr. Barton" and promised to cure a woman and her children of HIV.
One of the children subsequently died as a result of not receiving effective treatment after the mother paid Barton $18,000, prosecutors allege.
In another case, Barton advised a woman with an autoimmune disease to have all of her teeth extracted and undergo an ineffective procedure called "dendritic cellular therapy," prosecutors said. Barton charged the woman $32,000 for the treatment.
According to authorities, Barton is not a licensed medical doctor but shares his first and last name with a real medical doctor who is licensed in California. Barton allegedly used that fact to create the impression that he was a licensed professional.
The defendant allegedly said he provided treatment for cancer, allergies and other ailments, with more than 200 doctors on staff, including surgeons working for him in Tijuana.
An undercover agent testified last year that Barton told her his therapy treatment "would cure my cancer" and wrote him a check for $8,760.
The judge ordered a sentencing hearing for Barton on Monday, Feb. 10.