This is an archived article and the information in the article may be outdated. Please look at the time stamp on the story to see when it was last updated.
SAN DIEGO – The man accused of murdering his wife and then driving her body to police headquarters pleaded not guilty to a first-degree murder charge on Thursday.
Amercus De Orenday could spend 25 years to life in prison if he is convicted of killing his wife, Mirella De Orenday.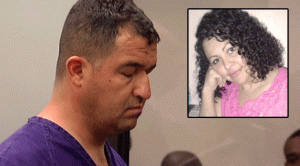 Investigators believe De Orenday strangled his wife and then drove her body to San Diego Police Headquarters around 1:30 a.m. Tuesday. Deputy District Attorney Leonard Trinh said De Orenday made contact with police officers outside the building.
"He told the detectives that he wanted to turn himself in and that his wife was dead in his truck," said Trinh.
Trinh said the couple had a history of domestic issues. He said De Orenday obtained a restraining order against his wife and, as a result, got primary custody of the three children they had together.
"The defendant began manipulating Mirella by using the kids as leverage," said Trinh. "Making Mirella kiss him and trying to initiate sex with her."
Trinh said Americus De Orenday was also upset Mirella De Orenday began dating a co-worker after they separated.
"He began driving by her place of employment to stalk her," said Trinh.
According to a search warrant obtained by Fox 5, last Saturday Americus De Orenday showed up at the residence where Mirella De Orenday lived with her 17-year-old daughter from a previous marriage. De Orenday was there to drop off the children. The documents say Mirella De Orenday went outside to speak with Americus, but when she never returned the daughter called police.
The search warrant states witnesses told police Mirella De Orenday went with Americus De Orenday willingly, so officers told the daughter to call back the next day if she still hadn't come home. The daughter called police again Sunday and Monday when there was still no sign of her. Monday police took a missing persons report.
"On Monday at about 8 p.m. the defendant was seen going into a Wal-Mart where he purchased a garden hose," said Trinh.
Around 1:30 a.m. Tuesday he showed up at SDPD headquarters with Mirella De Orenday's body in his back seat. The search warrant said detectives saw "obvious signs of decomposition."
The garden hose was running from the truck's exhaust into the vehicle. Investigators still aren't saying if the garden hose played a role in her death. They also are not saying whether they believe this was a failed murder-suicide attempt.
Judge David Szumowski set De Orenday's bail at $1 million.