This is an archived article and the information in the article may be outdated. Please look at the time stamp on the story to see when it was last updated.
SAN DIEGO --  A jealous husband who stabbed and strangled his 19- year-old estranged wife at San Diego City College -- carving the word "bitch" in her back -- was sentenced Thursday to life in prison without the possibility of parole.
Armando Perez, 44, was convicted in September of first-degree murder and lying in wait in the Oct. 12, 2010, death of Diana Gonzalez.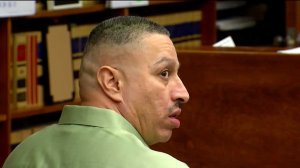 "You butchered her," Superior Court Judge Frederic Link told the defendant. "You knew what you were doing. You deserve to be put away for the rest of your life. You were cruel, you were vicious, you were callous."
Link told Perez that he would have been facing capital punishment had it not been for Mexico's extradition process, which bars the death penalty when a defendant is sent back to the United States.
At the sentencing, Janette Gonzalez, the victim's older sister spoke on behalf of her family.
"He's worse than the devil," Gonzalez told the judge.
She said it's been 7 years since her sister's murder, but the pain is still raw.
"I thought the pain was going to be less as time passed by, but it seems to be worse," said Janette.  "On the anniversary of Diana's death, I went to the cemetery and I can't even begin to tell you how much I hate cemeteries now."
At the time of Diana's murder, she and Perez had a 10 month old daughter.  Janette said the child has yet to learn what happened to her mother.
"My niece is now 7 years old and she's already starting to ask questions," said Janette.  "One day she will unfortunately have to know the truth about how my sister was murdered."
The road to justice for the Gonzalez family has taken 7 years.
After Perez killed Diana, he fled to his native Mexico and was a fugitive until his arrest in February 2012.
Three years ago, Perez pleaded guilty as his trial was about to begin, but an appeals court sent the case back to San Diego Superior Court, ruling that a judge erred by allowing the defendant to plead guilty without a lawyer in a case in which he faced a sentence of life in prison without parole.
At his sentencing, Perez tried to justify his actions.
"When I went to the city college that night I never planned to kill Diana – I lost my mind when I seen her with someone else and that monster came out," said Perez.  "I didn't how to control my mind and I didn't realize how my mind was making me into this monster.  I didn't realize it at all I would kill Diana."
Perez said since then he's found healing through God.
"God has healed me from being a monster, I have found comfort in him I hope that never again do I hurt anyone else," said Perez.  "To me, I should have gotten the death penalty for what I did."
Perez told Diana's family he still loved her and then apologized.
"Please look to God's help for healing, I know it's hard to try and forgive me after what I did to Diana," said Perez.
Deputy District Attorney Jessica Lees told the jury that Perez waited for his wife, a student at SDCC, as classes let out the night of Oct. 12, 2010. Perez walked with Gonzalez the opposite way from where her parents were waiting to pick her up, then strangled her and stabbed her all over her body in a men's bathroom.
The prosecutor said Perez became obsessed with Gonzalez and was abusive, causing her to take out a temporary restraining order against him a month before she was killed.
"Armando Perez stole Diana's life," the prosecutor said. "He stole her future. He stole her life."
Defense attorney Bart Sheela told the judge that Perez will appeal.