This is an archived article and the information in the article may be outdated. Please look at the time stamp on the story to see when it was last updated.
VISTA, Calif. – A man who survived a hit man's bullet took the stand Tuesday to testify against his ex-wife, who prosecutors claim hired the shooter to kill him.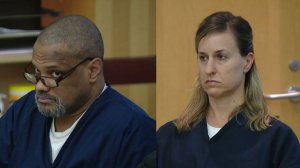 The preliminary hearing was held to determine whether there is enough evidence for the case to go to trial.
Facing the alleged hit man for the first time, Greg Mulvhill testified he was lured to the ambush on September 1, 2016 on an access road off of Avenida Soledad in Carlsbad. He said he was promised some documents that might help his case in a contentious custody battle that he was in with his ex-wife, 43-year-old Diana Lovejoy.
"I said 'hello' a second time and then he yelled 'gun,' and that's when I then heard a very loud gunshot and felt like somebody hit me in the back," Mulvhill testified.
Mulvhill testified that once he and his friend ran for their lives, the would-be killer realized the primary attack wasn't fatal and tried once again to kill Mulvhill.
"As we started to come down the hill towards the car, I heard approximately six more shots in rapid succession," Mulvhill said.
Prosecutors alleged Lovejoy hired a firearms instructor, 49-year-old Weldon McDavid, to kill her ex-husband and that McDavid shot Mulvhill in the left side of his chest.
Defense attorneys say they believe the preliminary hearing will be held over for trial, but argue convincing a jury to convict beyond a reasonable doubt will be difficult for prosecutors.
Lovejoy and McDavid are being held on $2 million bail. If convicted, they face a minimum of 25 years to life in prison.