This is an archived article and the information in the article may be outdated. Please look at the time stamp on the story to see when it was last updated.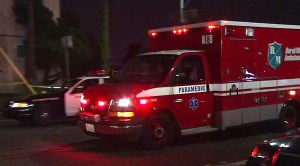 SAN DIEGO — A 43-year-old man was stabbed in the face while waiting at a trolley stop in Old Town in an apparent gang-related attack, police said Thursday.
The stabbing at Congress and Taylor streets was reported at 10:08 p.m. Wednesday, according to San Diego police Officer David Stafford.
Two men walked up to the victim and issued a gang challenge before one of them pulled out a knife or box cutter and stabbed the victim in his face, he said in a statement.
Paramedics took the victim to a local trauma center, Stafford said, adding that the wound was not life-threatening.
Police described the suspects as young Hispanic men, around 5 feet 9, last seen wearing white shirts and blue pants. They fled in a newer white Nissan sedan, Stafford said.
Gang detectives were investigating.