This is an archived article and the information in the article may be outdated. Please look at the time stamp on the story to see when it was last updated.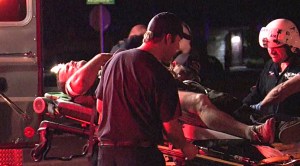 ENCINITAS, Calif. — An early-morning argument between two men in a coastal North County neighborhood escalated Friday into a shooting that left one of them hospitalized and the other behind bars, authorities reported.
David Burton Kaufman, 32, allegedly opened fire on 41-year-old Peter Byrne at a home in the 700 block of West Bluff Drive in Encinitas about 12:30 a.m., according to sheriff's officials.
Medics airlifted Byrne to Scripps Memorial Hospital La Jolla for treatment of an apparently non-life-threatening gunshot wound to his hip, Sgt. James Cady said.
Kaufman was booked into Vista Detention Facility on suspicion of assault with a deadly weapon. He was being held on $50,000 bail pending arraignment, scheduled for Tuesday afternoon.
It was unclear what prompted the dispute between the two men, who were described by deputies as acquaintances.