This is an archived article and the information in the article may be outdated. Please look at the time stamp on the story to see when it was last updated.
EL CAJON, Calif. – An El Cajon police officer shot a man in a used car parking lot Friday morning, authorities said.
Raymond Lee Goodlow, 53, was riding his bike on the sidewalk near Walter and Main Street around 9:30 a.m. when the officer attempted to stop him, according to El Cajon police Lt. Tim Henton. Goodlow did not listen and turned into the BestCAR4U lot.
"As the officer followed him in, he noticed he was turning and looked at him reaching into his waistband," said Henton. "The suspect was still reaching into his waistband the officer gave him orders to make his hands visible, to show his hands, but he was noncompliant."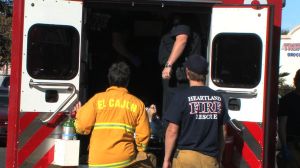 Fearing for his life, the officer fired five to six shots striking Goodlow in the face.
"It was from being shot for riding on the sidewalk," said Henton.  "When someone is being stopped and they don't show their hands and they are evasive, that causes officers to fear for their safety."
"As paramedics were cutting away the suspects pants, they found two knives," said Lt. Henton. "We believe the suspect was armed with those knives."
Goodlow was taken to Sharp Memorial Hospital and was in stable condition.  He was not in custody as of Friday afternoon.
Frank McDermott works at a motel near the used car lot.  He told Fox 5 that Goodlow, also known as "Black", had been a problem since he started hanging out in the area a week ago.
"He got what was coming to him.  Absolutely," said McDermott. "He was urinating on the property apparently and for whatever reason he just wouldn't leave."
McDermott told Fox 5 he called the police three times to complain about Black.
"He was more than asking for trouble.  Some people ask for trouble, he was advertising it," said McDermott.
Goodlow could face misdemeanor charges of evading an officer or resisting arrest.
A man named Roy said he saw the entire confrontation.
"I hollered across the street 'Don't shoot that man. Don't kill him!'" Roy said. "Pop, pop, pop, pop, pop!  It sounded like firecrackers."
Roy said he's been caught riding his bike on the sidewalk.  He said from what he saw Friday morning, it was just a minor traffic violation and bullets did not need to fly.
"I don't think he should have been shot.  I think it could have been handled a lot more diplomatically, a lot more safely," said Roy.
The police officer involved has been on the force for two years.  He has been placed on administrative leave.